Gluu Flex
redefines
"no lock-in"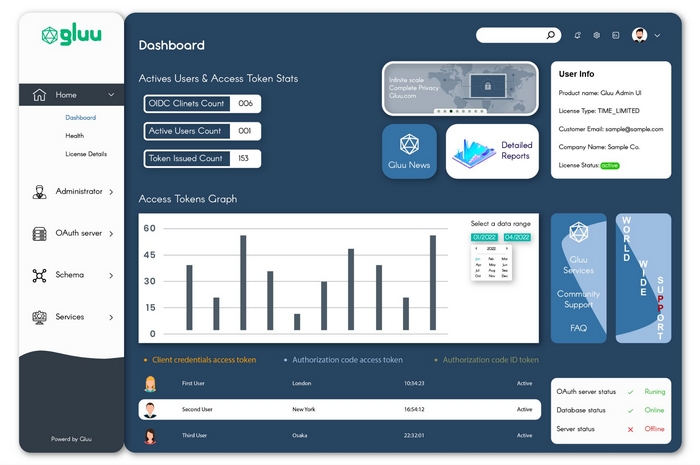 Build a Secure Scalable Centralized Authentication and Authorization Service
Gluu Flex is a downstream product of the Linux Foundation Janssen Project. It was created for enterprise customers who want a commercially supported distribution, plus some additional tools to ease administration. All components except the Admin UI are still Apache 2 licensed–migrating to the 100% open source is always an option.
Common use cases include:
Passwordless Authentication and 2FA
Mobile authentication
OAuth authorization and consent
Consumer digital identity
Gluu Flex is a commercially supported distribution of the Janssen Project, including the OpenID, OAuth, Config, FIDO, and SCIM Server components. 
Gluu Flex pricing is based on Monthly Active Users. That means you don't have to pay for users that never log in!
Gluu is by far one of the most secure, and cost-effective solutions for self-hosted consumer authentication.
What you'll find is that when you compare Gluu Flex with the cost of self-hosting, it's a great deal!
One of the unique features of Gluu Flex is the ability to export your data and move to the Open Source distribution of the Janssen Project.
This means that you can start with Gluu Flex, but if you decide to move to 100% open source "in-house" later, it's no problem.
Have questions about Gluu Flex?
Hosting yourself, or looking for a Service?
Discuss your goals with an expert
Request a demo
Pricing and plan information
Use case and case studies
Two Factor Authentication
Built-in support for SMS, one-time password, Super Gluu, and FIDO authentication. With Gluu Flex Gold, end-users can manage their two-factor credentials on a self-service web page.
Built-in support for Google, Facebook, Microsoft Azure AD, Linkedin, Amazon, and Twitter. With Gluu Flex Gold, end-users can link and unlink social login identity providers.
Use OAuth JWT access tokens to secure APIs. The scope claim of the JWT enables you to centrally control the extent of access in the business logic of your application.
Join our community and try Flex for yourself