Single Sign-On (SSO) to Dropbox#
This document is a step-by-step guide to setting up Dropbox SSO in Gluu Server. This SSO requires setting a custom nameid called emailnid.
Custom NameID#
Please refer here on how to create custom attributes.
The new attribute screen should look like the screenshot below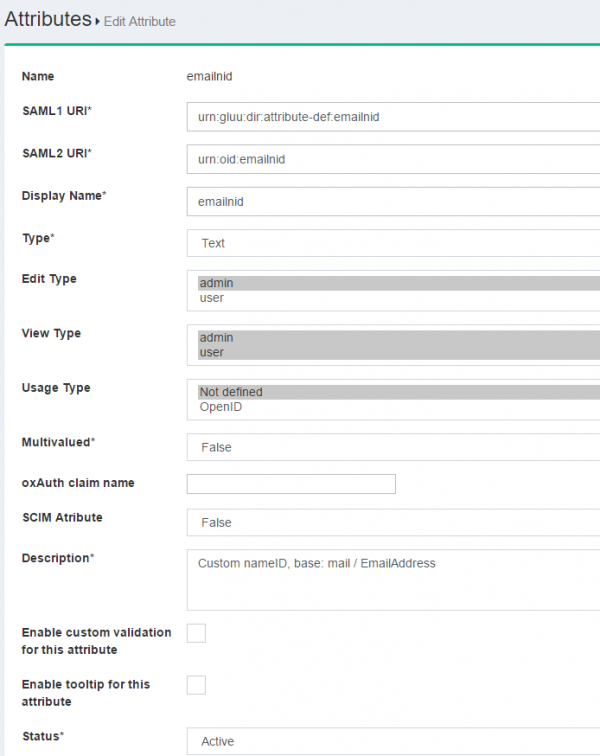 The custom nameid needs to be defined in the attribute-resolver template file. Documentation is available here

Restart the identity and idp services
Trust Relationship#
Please refer here to create trust relationship and fill up the form with the following info
The metadata for Dropbox is necessary to create trust relationship. Please use the following snippet so create the dropbox_metadata.xml.
 <EntityDescriptor entityID="Dropbox" xmlns="urn:oasis:names:tc:SAML:2.0:metadata">
    <SPSSODescriptor protocolSupportEnumeration="urn:oasis:names:tc:SAML:2.0:protocol">
        <NameIDFormat>urn:oasis:names:tc:SAML:1.1:nameid-format:emailAddress</NameIDFormat>
        <AssertionConsumerService index="1" Binding="urn:oasis:names:tc:SAML:2.0:bindings:HTTP-POST" Location="https://www.dropbox.com/saml_login" />
    </SPSSODescriptor>
</EntityDescriptor> 

Display Name: Dropbox
Description: External SP / File method
Metadata Type: File
SP Metadata File: Upload the 'dropbox_metadata.xml' which you just created

Configure Specific RelyiningParty: Yes

signResponses: conditional
signAssertions: never
signRequests: conditional
encryptAssertions: never
encryptNameIds: never


Released attribute: emailnid
Configure Gluu Server as IdP in Dropbox#
Log into Dropbox
Click on Admin Console
Click Authentication
Click on the checkbox labeled Enable single-sign-on

Optional/Required according to necessity

Sign in URL

https://<hostname_of_Gluu_server>/idp/profile/SAML2/Redirect/SSO 


X.509 certificate Get shibIDP.crt from Gluu Server chroot environment under /etc/certs/ folder and upload it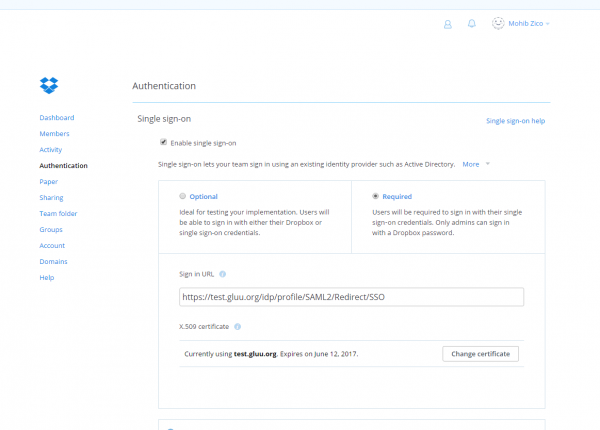 Test SSO#
Access https://www.dropbox.com and click on the Sign In button

If the account is configured for SSO, then a screen similar to the screenshot below will appear after entering the email address.

Click Continue and the website will redirect to Gluu Server for authentication.