Open-Source Ping Identity Alternative
Enterprises are moving to open-source infrastructure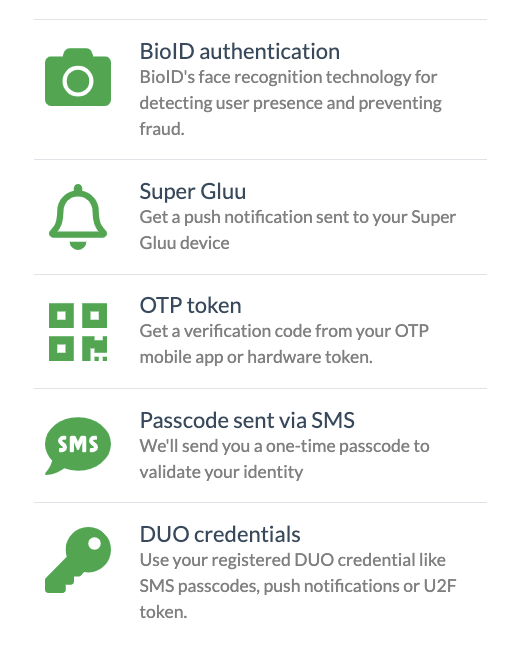 Gluu Solo is a fast, simple, and easy identity-as-a-service (IDaaS) single sign-on (SSO) offering that enables enterprises to give their users federated access to applications with a single click from a secure, cloud-based dock, accessible from any browser or mobile device.
True Uptime Assurance
Gluu Solo uptime assurance includes proactive service event management and predictive and preventive maintenance that will enable your organization to focus on your core competencies, while we take care of the rest.
Data Portability
Gluu provides server-level access to the LDAP Database that can be exported anytime as LDIF (a text format) or as native binary database files (quicker to restore). All user settings can be exported as well. You could also use the SCIM API if you just want to pull the users out.
Flexible Hybrid Deployments
With a hybrid IAM platform like Gluu, your organization can run, unify, and secure all digital identities across hybrid IT and hybrid cloud. Gluu Cloud can help eliminate identity silos across mixed environments, which is critical to improving security while maintaining a positive user experience.
Choice of Region - anywhere Google has a Region or Zone
As an administrator, you can store your covered data in a specific geographic location by using a data region policy. Your geographic location options are the United States or Europe.
Single-Tenant
Gluu Solo cloud-hosted, "single-tenant" service enables your organization to have access to your own independent server and database–enabling 100% control over your instance, without the IT system "care and feeding" requirements of self-hosted services. You'll even get SSH access to your server. 
Single Sign-On (SSO)
SSO is an important use case for employee productivity, and customer-facing user experience. With Gluu Solo, SSO is maintained simultaneously across OpenID and SAML websites. 
Multi-Factor Authentication (MFA)
Gluu Solo supports many MFA mechanisms, like FIDO, OTP, SMS, smart card, Duo, and many more. Gluu Solo also offers a unique self-service portal called Casa, which enables end users to manage their MFA credentials, much like they would do at Google.
Social Login
Built-in support for Google, Facebook, Microsoft Azure AD, Linkedin, Amazon, and Twitter.  With Gluu Solo, end-users can link and un-link social login identity providers.
Passwordless
Simplify the login process with Casa passwordless authentication using a security token or biometrics to reduce the risk of stolen credentials and prevent phishing.
User Management
Manage people in the Gluu Server's LDAP Directory and graphical user interface "oxTrust". All the data generated by the Gluu Server is stored in the local LDAP server included in every deployment. This includes OpenID Connect client data, session data, tokens, user data, and more.
API Access Management
The Gluu Server is an OAuth Authorization Server ("AS"), one of the important components of any API access management infrastructure. The AS authenticates clients (like websites) and issues access tokens. Gluu supports both reference tokens and value tokens (i.e. JWTs).
Dynamic Authorization
Gluu Solo provides centralized authorization policies that can evaluate identity attributes, entitlements, consents, the requesting app, or other contextual information to authorize critical actions and the retrieval of high-value data.
Self-Service Management Portal
Gluu Casa ("Casa") is a self-service web portal for end-users to manage authentication and authorization preferences for their account in a Gluu Server.
AD/LDAP Synchronization
LDAP Synchronization, a.k.a. Cache Refresh, is the process of connecting one or more existing backend LDAP servers, like Microsoft Active Directory with the Gluu Server's local LDAP server. Syncing people and attributes from a backend server speed up authentication transactions.
Directory
The Gluu Directory provides a hosted directory service that developers can use to store user authentication and profile data. The directory interface uses the System for Cross-Domain Identity Management (SCIM) v1. 1 open standard protocol.
Data Encryption
Gluu OpenID Connect API parameter enables OpenID Connect requests to be passed in a single, self-contained parameter and to be optionally signed and/or encrypted. 
Learn more about cloud hosted Gluu Server