Become a Partner with Gluu
Develop world-class identity solutions with Gluu and give users fast, secure access to everything, everywhere.
Move beyond OTP and SMS technologies "Man in the Middle" attacks. and embrace Fido Tokens and Mobile MFA.
Invite your MFA vendor to set up their solution on our platform.
Add Geofencing (impossible travel) and browser detection.
Add Risk Scoring with Behavioral Biometrics 
Add Biometric Enrollment with Face ID.
Self-Service MFA
Gluu Casa is revolutionary. It provides a single point of management for end users to view, enroll, and remove MFA authentication credentials,
Single Sign-On
Configure web SSO to any application that supports OpenID Connect or SAML. This critical to improve user experience and productivity.
Mobile SSO
Using the OpenID AppAuth libraries, you can enable SSO to mobile applications without accidentally leaking passwords to third party partners (or hackers!).
Inbound SAML
Leverage the SAML IDPs of your partners to offload credential management and enable end-users to seamlessly access protected resources by bringing their own identity.
Social Login
Support registration and sign-in at Google, Facebook, GitHub or any other popular consumer IDP.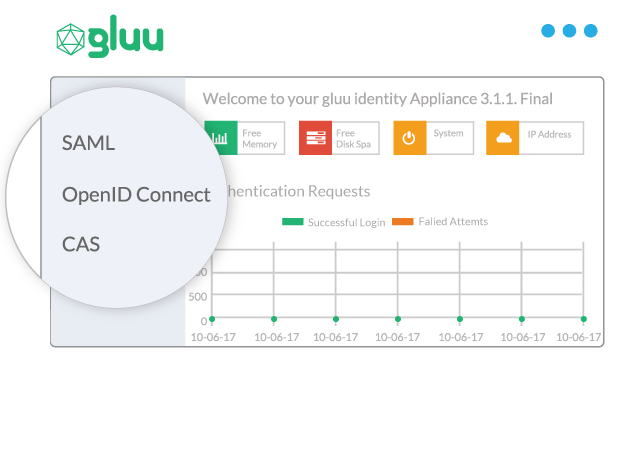 Easily deploy the Gluu Server on the cloud with easy connections to every app your customers need
Cloud-based single sign-on service connects everything from cloud to ground with SAML and OpenID Connect integrations, password vaulting, RADIUS and LDAP support, and connections to third-party legacy SSO solutions.
Single sign-on provider with a network of pre-built integrations that help you securely adopt and deploy SSO to cloud apps quicker without building and maintaining the integrations yourself.
Become a cloud hosted partner with Gluu
Open-source digital identity and access management mean you never get locked in.